INFJ is one of the 16 personality types of the Myers-Briggs Type Indicator (MBTI). INFJ stands for introverted intuitive feeling & judging. 1.5% of women are INFJ, and .5% of men are INFJ Type. If you have never taken the MBTI, and want to learn your personality type you can take the assessment online here: http://similarminds.com/jung.html. The assessment takes about 10 minutes to complete. After taking the assessment you can read more about your MBTI results here: http://www.personalitypage.com/high-level.html.
Short video with some basic info about INFJs

More information about INFJs
"INFJs are gentle, caring, complex and highly intuitive individuals. Artistic and creative, they live in a world of hidden meanings and possibilities." (http://www.personalitypage.com/INFJ.html)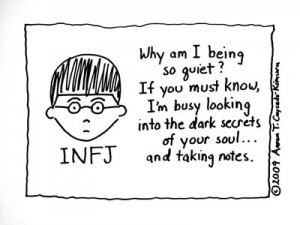 "Beneath the quiet exterior, INFJs hold deep convictions about the weightier matters of life. Those who are activists — INFJs gravitate toward such a role — are there for the cause, not for personal glory or political power. INFJs are champions of the oppressed and downtrodden. They often are found in the wake of an emergency, rescuing those who are in acute distress. INFJs may fantasize about getting revenge on those who victimize the defenseless. The concept of 'poetic justice' is appealing to the INFJ." (http://typelogic.com/infj.html)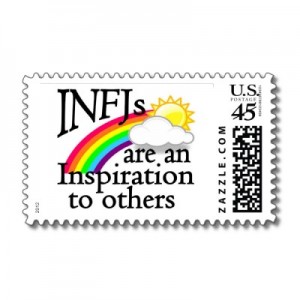 "It is difficult to broadly classify INFJs as either right-brained or left-brained since they utilize both sides of the brain with equal adeptness. INFJs are both creative and responsible, artistic and logical, spiritual and scientific, intuitive and analytic." (http://personalityjunkie.com/the-infj)
Strengths and weaknesses

Strengths
Warm and affirming by nature
Dedicated to achieving the ultimate relationship
Sensitive and concerned for others' feelings
Usually have good communication skills, especially written
Take their commitments very seriously, and seek lifelong relationships
Have very high expectations for themselves and others (both a strength and weakness)
Good listeners
Are able to move on after a relationship has ended (once they're sure it's over)
Weaknesses
Tendency to hold back part of themselves
Not good with money or practical day-to-day life necessities
Extreme dislike of conflict and criticism
Have very high expectations for themselves and others (both a strength and weakness)
Have difficulty leaving a bad relationship
(http://personalitypage.com/html/INFJ_rel.html)
Some famous INFJs
Adam Sandler – actor, comedian
Anthony Kiedis – singer (Red Hot Chili Peppers)
Aristophanes – Greek dramatist
Billy Crystal – actor, comedian
Callista Flockheart – actress
Carrie Fisher – actress, screenwriter, novelist
Carl Jung – psychiatrist
Eleanor Rossevelt (Human Rights Declaration)
Epictetus – Phiolosopher
Florence Nightingale – Author
George Harrison – Musician (Beatles)
Gillian Anderson – actress (X-Files)
Goethe – poet
Hitler – politician
Holli Marry Combs – actress (Charmed)
James Reston – journalist
Jamie Foxx – actor, musician, comedian
Leon Trotsky – Revolutionary
Leonard Cohen – Actor
Mahatma Gandhi – Indian Politician, spiritual leader
Marilyn Manson – Musician
Martin Van Buren – American President
Mel Gibson – actor, filmmaker
Michael Landon – actor (Little House on the Prairie)
Michelle Pfeiffer – Actress
Mischa Barton – Model
Mother Teresa – social activist
Nathan – Prophet of Israel
Nathaniel Hawthorne – novelist
Nelson Mandela – President of South Africa
Neve Campbell – Model
Nicole Kidman – actress
Noam Chomsky – Linguist and author
Oprah Winfrey – TV show host
Plato – philosopher
Robert Mugabe – Dictator of Zimbabwe
Ron Paul – politician
Rosa Parks – Activist
Simone de Beauvoir – Philosopher
Thomas Jefferson – Politician
(http://personalitycafe.com and http://celebritytypes.com/infj.php)
Another short video with INFJ information

Resources for INFJs
If you have a Google+ account you can join this INFJ group to talk to other INFJs, share photos, videos, hangout chats, etc:


There are a few Facebook groups for people with INFJ personality types. Here is my favorite group, and the one I would recommend joining: INFJs are Awesome https://www.facebook.com/groups/infjs/
Personality Cafe has a lot of interesting discussions and information about INFJs. It is probably the most popular online forum about MBTI personality types. Here is a link to the INFJ section of the site: http://personalitycafe.com/infj-forum-protectors/
INFJ Careers
Here are some of the careers that INFJs tend to be drawn to. They usually want a career that goes along with their values, which often times includes helping or teaching others.
Clergy / Religious Work
Teachers
Medical Doctors / Dentists
Chiropractor
Reflexologist
Psychologists
Psychiatrists
Counselors and Social Workers
Musicians and Artists
Photographers
Child Care / Early Childhood Development
(http://www.personalitypage.com/html/INFJ_car.html)
INFJ Images

http://plus.google.com/117729365180107810009
http://www.zazzle.com/i_n_f_j_postage-172103487287209086
http://becomingstacie.wordpress.com/2012/05/12/infj/
http://en.wikipedia.org/wiki/George_Harrison
http://en.wikipedia.org/wiki/Mohandas_Karamchand_Gandhi
http://en.wikipedia.org/wiki/Plato
I hope you enjoyed the post! If you have any question or anything leave a comment!

Related posts: